Whether you are an outdoors enthusiast with a passion for road trips, have a big family you transport around, or just plain prefer large vehicles, there are plenty of reasons why an SUV might just be the right vehicle for you as you need a big, rugged machine that can handle lots of people and different terrain.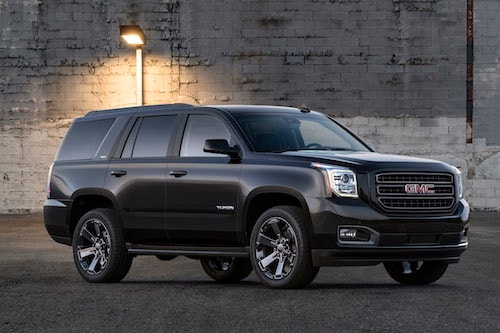 But which SUV will get you the best bang for your buck? How do you choose when the market is so saturated with options?
Here are five reasons the GMC Yukon is the best choice you can make when shopping for a new SUV:
1. Luxury at a Lower Cost
If you want to treat yourself to a luxury SUV experience without breaking the bank, look no further than the GMC Yukon. The 2018 Yukon SLE starts at $50,395. Compare that to $51,790 for the 2018 Ford Expedition XLT, which doesn't boast the same upscale level of luxury that the Yukon does. In fact, if you want to look for a similar level of luxury, you'll have to consider spending the $69,550 for the 2018 Mercedes-Benz GLS 450.
The 2018 Yukon models bring new levels of luxury to the table, with the Yukon SLE boasting Front Premium Cloth bucket seats with power recline and power lumbar, tri-zone automatic climate control to maintain individual temperatures for the driver, front passenger, and rear seat passengers, and a leather-wrapped steering wheel.
2. Improved Performance And Fuel Efficiency
One of the big benefits of SUVs, of course, is that you can easily seat the whole family. The 2018 GMC Yukon Denali can comfortably seat up to eight passengers, meaning you can fit two four-person families in there.
With the GMC Yukon, you'll save even more since the 2018 models have been upgraded to help maximize fuel efficiency. The 2018 GMC Yukon Denali now boasts a fuel economy of up to 23 MPG, which means you save on fuel costs compared to other SUVs, such as the Mercedes-Benz GL450, which can only get up to 21 MPG (with premium gasoline.)
The GMC Yukon Denali now features a 10-speed automatic transmission and is powered by a 5.3-liter V8 engine. That's an engine powerful enough to tow a horse trailer, with Advanced Direct Injection to operate more quietly and more efficiently than ever before.
The GMC Yukon also features Active Fuel Management technology to activate or deactivate four of the eight cylinders in the engine based on your car's load and power demand. You can also opt for the Exhaust Upgrade Package, which reduces pressure on your vehicle while meeting emissions standards.
3. The Latest Technology
A big part of what makes car buying fun is seeing all the new hi-tech features available. The GMC Yukon is no slouch in this department; the latest models make use of cutting-edge technology to ensure a safe, comfortable, and entertaining ride.
The 2018 GMC Yukon SLT comes standard with an 8-inch diagonal GMC Infotainment System, featuring a touchscreen, Bluetooth streaming audio, voice activation, and Apple CarPlay compatibility.
You'll also get a trial subscription to SiriusXM satellite radio included with your Yukon so you can really put the 9-speaker Bose premium sound system to the test.
Driver convenience is another focus in GMC 2018 models. The dashboard is fully customizable, allowing you to select themes, and control the information your car displays. You can even download the myGMC Mobile App to your phone, allowing you to control many of your GMC Yukon features from a distance. For example, you can use the app to easily locate your vehicle from wherever you are. Now you'll never have to worry about remembering where you parked.
Other features include chimes to inform you if you've forgotten anything in the back and patented anti-theft technology to keep your vehicle safe no matter where it's left.
4. Commitment to Safety
Naturally, safety is often at the top of prospective car buyers' lists when searching for a new vehicle. You can have all the luxury and technology in the world, but if the car isn't safe, none of that will matter.
Fortunately, the GMC Yukon stands up to this test. In fact, the 2018 models make use of the latest technology to ensure that you have peace of mind every time you drive.
The GMC Yukon utilizes cameras, ultrasonic sensors, and even radar to help improve the awareness of your surroundings. Forward collision alert will let you know if a crash is imminent while you're following a vehicle and the side mirrors will also alert you if a vehicle enters your blind spot. Rear cross traffic alerts will help you avoid crashes while you're in reverse, and Safety Alert Seats will vibrate should you start drifting in between lanes.
There's even a built-in Teen Driver mode that will protect the youngest drivers of your vehicle; you'll be able to set limits on certain features while your Yukon logs information about your teen's driving behavior, allowing you to continuously work on improving skills behind the wheel.
5. Upgrade Options
While the standard features of your GMC Yukon already make for an amazing vehicle, where the brand really shines is in the upgrade options.
Every person's lifestyle is different and the car you drive should reflect that. You can personalize nearly everything about the GMC Yukon, from the look to the functionality.
For example, if you intend to do a lot of towing or off-roading in your vehicle, you'll be able to opt for the four-wheel-drive feature. The 5.3L V8 engine is standard with your GMC Yukon, but if you're itching for some more power, you can get a 6.2L EcoTec3 V8 engine instead.
A trailer package can also be added on, and the Convenience Package will take a lot of the headache out of travel with features such as a power liftgate and an auto-dimming rearview mirror.
For more information, head to your local
GMC dealer
and ask about the GMC Yukon. Take a test drive in the various models to decide which Yukon is right for you.